We know—moving sucks. Packing, stressing, loading the U-Haul, stressing… you get the idea. It turns an otherwise exciting and significant life event—and congrats on your new home—into one of the most taxing experiences there is, both mentally and physically. You just want to get the whole thing over with so you can enjoy your abode.
Efficiency is the key when it comes to moving. That's especially true when it comes to packing your U-Haul: it's a real-life game of Tetris except it hurts and it's not fun at all. The more you can pack into your U-Haul in 1 trip the better. You'll save on time, effort, mileage charges, and fuel costs—and perhaps best of all, stress.
So how do you pack your U-Haul truck? We figured you'd ask, so we put together this handy guide. Check it out!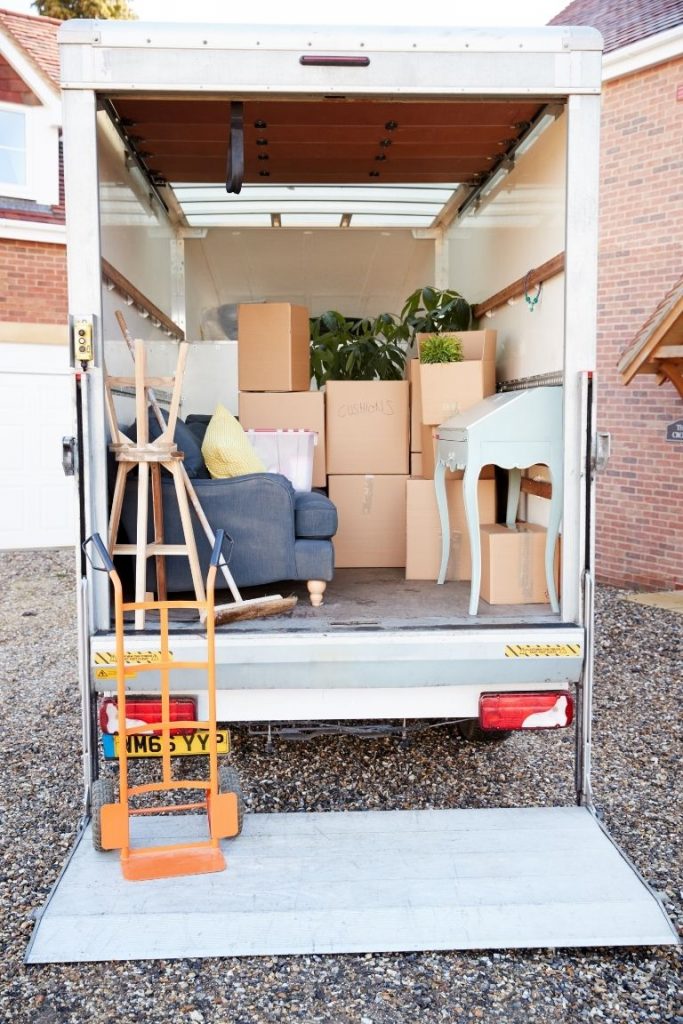 Choose Your U-Haul Truck Size
At least 4–5 weeks before you move, reserve a U-Haul rental truck for your moving date. Decide how much space you need based on what you're taking with you. You want a truck that's big enough to take everything in 1–2 trips. Getting a truck that's too small just means you'll end up making several trips back and forth or you'll have to unpack that truck and exchange it for a larger truck. Either way, you end up spending more time and money moving.
The truck sizes available for rental through U-Haul are the following:
Purchase New Boxes
If all your boxes are pretty much shaped the same way, this will ease your loading process and make it more effective. Additionally, it will minimize the possibility of collapsed boxes and broken belongings within the boxes.
Rent Enough Padding
Be sure to rent enough padding to protect your larger furniture pieces while they're in transit. Plan to have the following
One pad for each smaller furniture piece like nightstands, dining chairs, side tables, etc.
2 pads for each medium-sized furniture piece like dressers, recliners, couches/sofas
3 pads for large furniture pieces like armoires, chests, dining tables
The optimal way to minimize damage to your furniture is to shrink-wrap these moving pads to the furniture prior to moving. If that's too time-consuming for you, at the very least, shrink wrap pads to every wooden furniture piece inside the U-Haul after you've loaded it.
Get Straps to Keep Load in Place
Purchase a 4-pack of straps to keep your load in place in the U-Haul truck. Place 1–2 straps on the end of the load to keep it in place during transport. You can also use the straps to hold tall furniture in place against the wall of the U-Haul truck.
Rent Hand Trucks/Dollies
Rent a 2-wheel box dolly for moving square items and boxes onto and from the truck, and get a 4-wheel furniture dolly to assist with moving the heavier, larger furniture.
Other Packing Materials
In addition to boxes, pads, straps, and hand trucks/dollies, you'll need packing tape, a marker and/or labels for your boxes.
Tier Loading
Next, begin by loading the U-Haul truck in tiers. You have three ways to do this. You can pack from the front of the truck to the back of the truck, from one side of the truck to the other, or from the floor to the ceiling.
Load Order
Next, be particular about the order you're going to load things into the U-Haul truck. This is important for ensuring that items don't move around in the truck.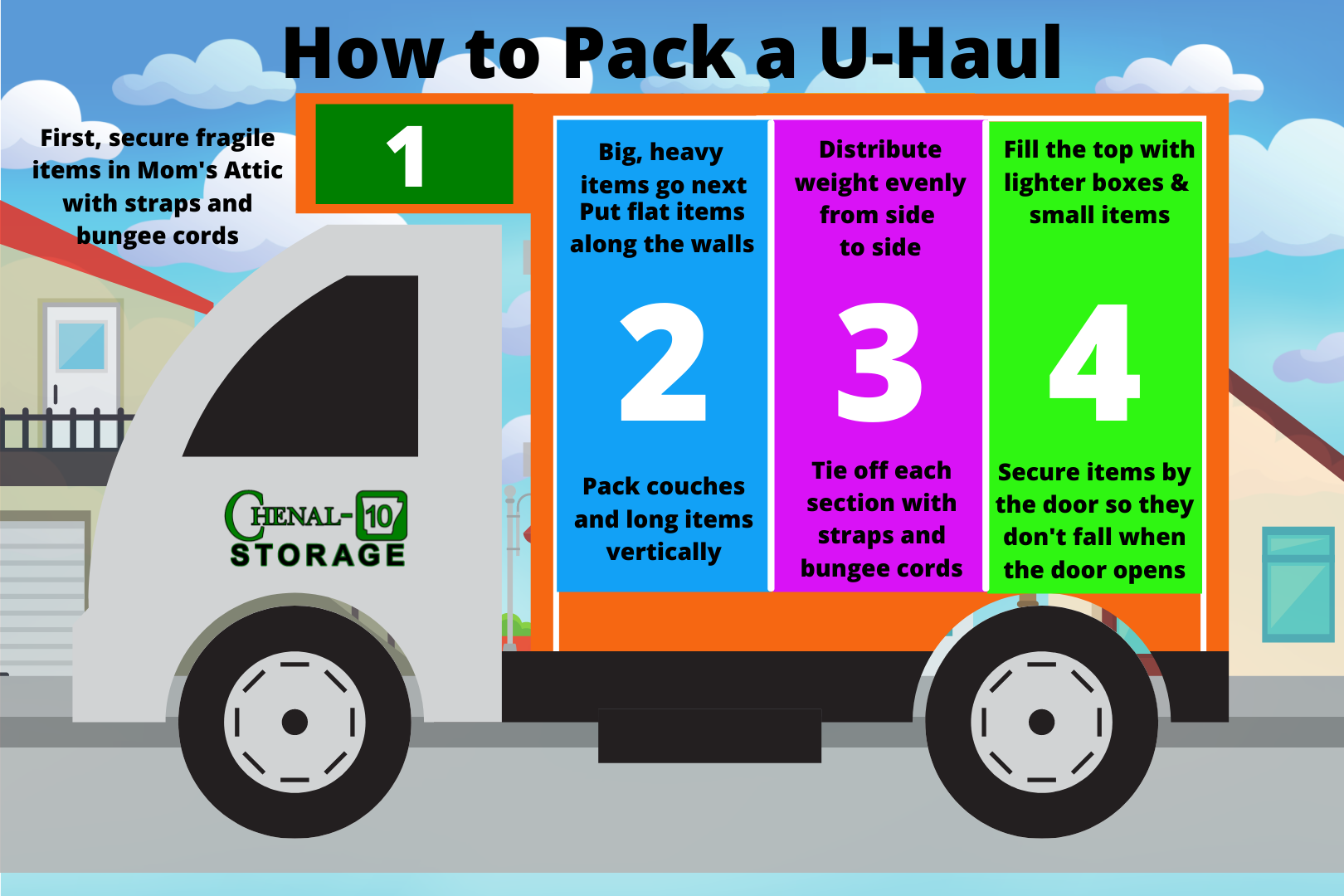 Start with "Mom's Attic"
Glassware, knick-knacks, and other fragile items should be packed with care and secured in Mom's Attic, the little loft at the rear of the cargo area nearest the cab. Use ratchet straps or bungee cords to keep everything in place.
Next come your large items and appliances
Your heaviest items should be packed first, towards the front of the U-Haul. You want the majority of the weight up front for weight distribution purposes. Store longer items like couches and carpet rolls vertically to save space.
Fill space with square furniture and boxes
After the big stuff, begin loading boxes and stack them as high as you can. You can also fill space above the large items with boxes and smaller items. Then bring on the boxy furniture like dressers and shelves. Load them after you load your boxes to hold them in place during the trip.
Place your mattresses and box springs behind the furniture to secure those as well, and put a moving pad underneath them so they stay clean. Put larger breakable things and electronics in between your mattresses and box springs to keep them protected and set in place during their trip.
Next, load your headboard and footboards upright after loading your mattresses and box springs. Load your sofa in next to keep the mattresses and box springs in place. Your sofa should be in an upright position as well. After that, put your love seat or recliner upside down on top of the sofa.
Then load your dining table vertically. If you need to take the legs off the table to get it to fit, do so. If you have any rugs, clean them beforehand. Then roll them up and put them in plastic wrap before they go on the moving truck.
Then, load the boxes and be sure to arrange them by size and shape, packing them in a way that optimizes the truck's space. You can then place things like dining chairs, lawn chairs, beanbags, and children's toys on top of the boxes.
Loose belongings like patio furniture, bicycles, exercise equipment, etc., can be placed in the very back of the truck. Make sure you secure them so they don't fall out when you open the cargo door.

If you're in the Little Rock area or ready to move to Little Rock and you're looking for a moving truck rental or overall moving services, Chenal 10 Storage can help you out. In addition to moving services, we also provide self-storage services, and we even have our own post office. For more information, you can call us at 501-653-3088, or visit our Contact page to submit a form with your issues and concerns.